So back in the fall of last year, I wrote a blog about our project of building a house in Sea Ranch. We had purchased the lot, started the architectural design process, scraped our way through the first portion of the homeowner's building process and started getting quotes from local contractors.
We talked to three different contractors, two local to the Sea Ranch area and one from Santa Rosa. We could not get the pricing to something that we felt comfortable with to move forward. We took another trip up with our realtor and looked at what homes were available for sale and it became abundantly clear, that for us buying would be a more comfortable choice. We put the lot on the market and resigned ourselves to the fact that it could take a year or so to sell, and that our dream would be put on hold for now.
But, life is funny and timing is just that…we received an offer within days from a local contractor who had missed out when we purchased it and wanted to build his own home on that lot. It seemed like it was meant to be and we were really lucky!
What started out, nearly fifteen years ago, as a dream about a beach getaway has turned into a reality. We bought this cute, little house a short walk away from the ocean. The minute I walked into this one it felt like home and I could see my family making memories here.
It is in pretty good condition, albeit a little dated but all in neutral tones, thankfully. Mostly needs work on the exterior shingles and the back deck. Inside, we have some small projects that we are doing right away and some bigger, down the road type work like a kitchen and bathroom renovations.
Luckily the majority of the house was painted in an off white, Sherwin Williams, French vanilla color and many of the walls are cedar, which I just love.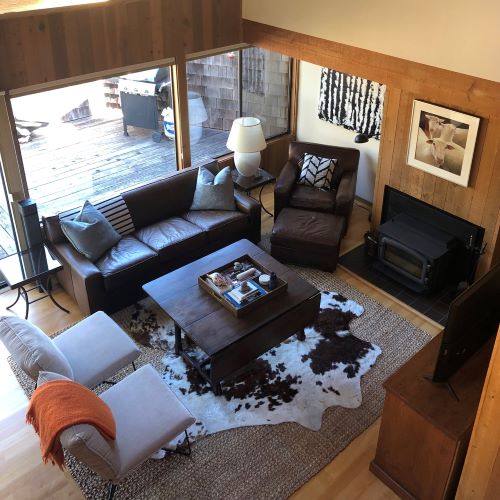 How we styled the living room with a peek at the wall color…
It reads much more off white in the house against the cedar wall sand wood ceilings
Sherwin Williams, SW 7118
The kitchen and master bath were the only rooms painted a saturated yellow that we had to change. We switched out the sconces in the kitchen and will probably change out the other sconces as we go.
The house came completely furnished and the first weekend we went up and removed what wasn't staying and brought up furnishings to add. It was a mad house but worth the two full days of hard labor.
The small pantry came sans the doors, which was fine, but seemed a bit unfinished. I decided to wallpaper the back wall and keep the wood shelving. My husband and I hung the wallpaper ourselves. It was stressful and satisfying all at the same time.
Before and after with paper applied to back wall
I absolutely love this Schumacher, Chinois Fret in Mineral. It is a classic Chinese fretwork pattern. Love the pale green color and the pattern. Loved this quick and fairly simple update!
So, a little paint, a little paper and a little elbow grease and she's ready for some memories to be made around the dining table…until the next project!
Tama Bell Design is an interior design firm with projects in Santa Rosa, Healdsburg, Sebastopol, Petaluma, Sea Ranch, and throughout Sonoma County and the Bay Area.