A Ranch Refresh
In between a bevy of client projects this year, I decided to throw in a little exterior revamp on my own house. The house was built in 1989, we bought it in 1998 and have pretty much touched or replaced every surface inside and out over the years. But, the original window configuration, landscaping and the exterior siding was one of the last remaining pieces and those really needed a face lift to bring us back into the here and now!
I really hated the arched windows and that is what started the whole ball rolling on the project. I wanted to rid our 1989, single story, ranch style house of the last remaining 90's vibe, which were those arched windows. There were two in the front and one in the back and they just screamed 1989. I wanted a different, fresh look for the whole house and entry.
This first image shows the original lawn, landscaping and sidewalk.
These next two images show the front after the lawn was removed and the entry was stepped down to create a level courtyard. I was trying to resolve a couple of issues with the front entry. Because the dining room pops out, you are unable to see the front door when you park. I wanted to visually make the entry more obvious, add a courtyard and provide a bit more privacy on entry. I also wanted to move the landscaping away from the front and into containers which were more controllable with size and look.
I wanted to keep the light and height, so we changed the arches into rectangular transoms. I used Marvin Wood-Ultrex in Ebony, which would play nicely against the large white siding. I left the interior natural wood, then had my painter do a dry brush with a warm cream paint and natural finish over. I wanted them to look old and weathered from the inside, and pop against the white painted trim. I painted the exterior siding Benjamin Moore, Antique Ivory, which is a warm off white. It was a pretty quick refresh which added a lot of bang for the buck.
Now on to the next project...
MEG MCCONAHEY
THE PRESS DEMOCRAT | May 26, 2017
Sebastopol designer updates her 1980s rancher with timeless touches
Imagine if we were still wearing shoulder pads, acid-washed jeans, pegged pants and a mullets or big teased hair?
You don't need radiocarbon dating to know you're stuck in the '80s.
That's a little how designer Tama Bell felt about her home. The 1989 ranch house off a rural lane in Sebastopol, had served her family well as she and her husband raised their two daughters. In the 18 years since they bought the place, they have replaced virtually every surface, she said. But there were a few exterior details that, to her eye, made the house look like it was dressed for another decade.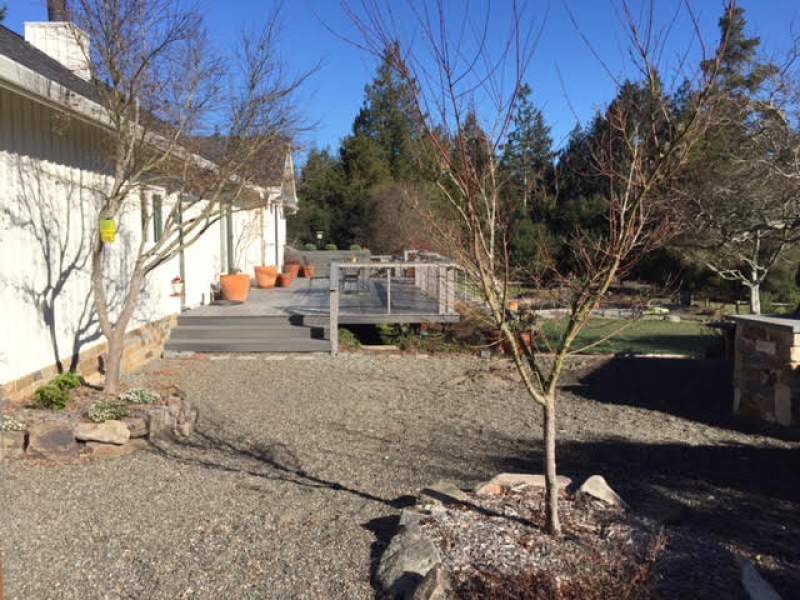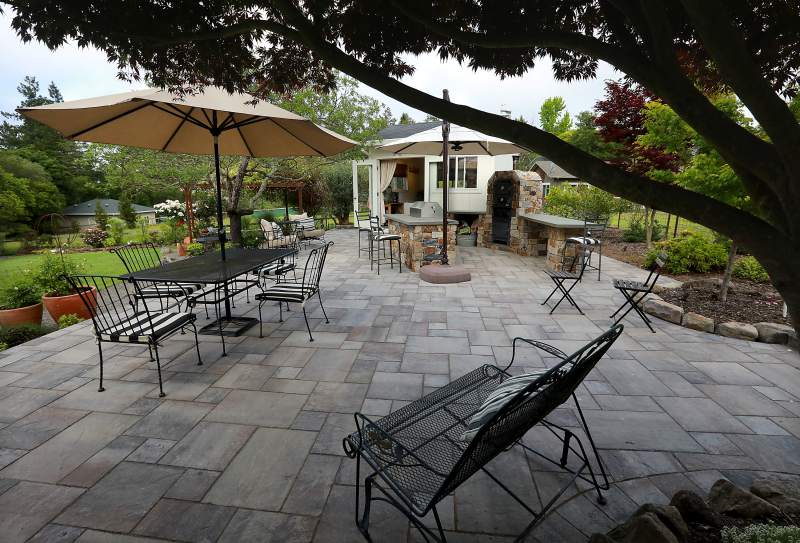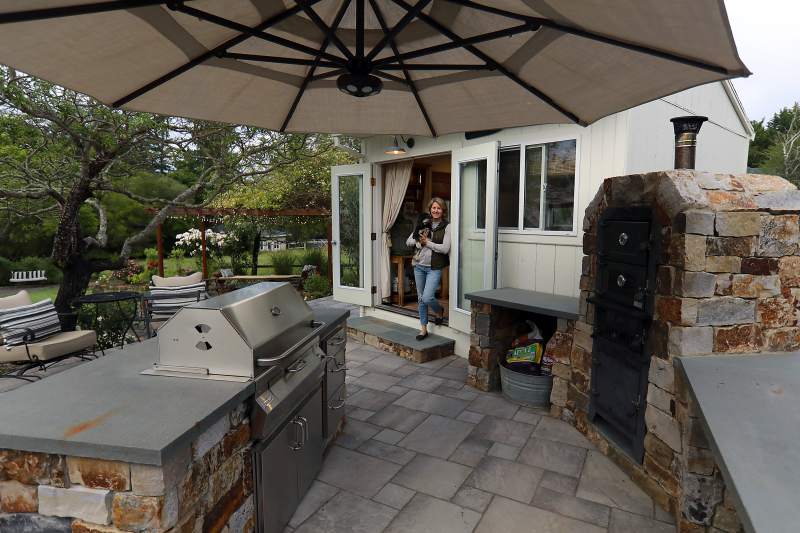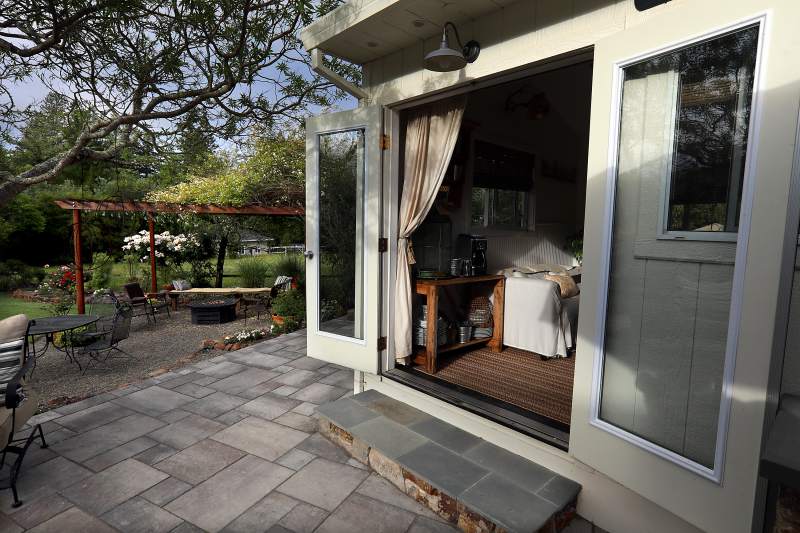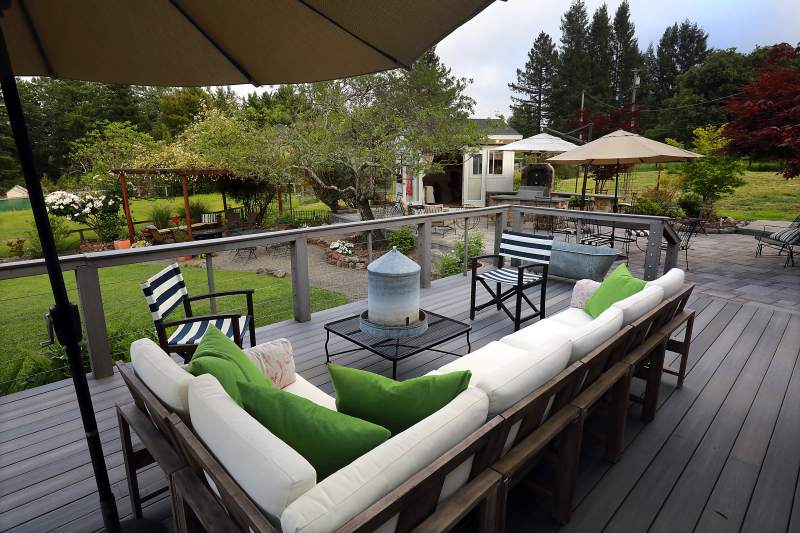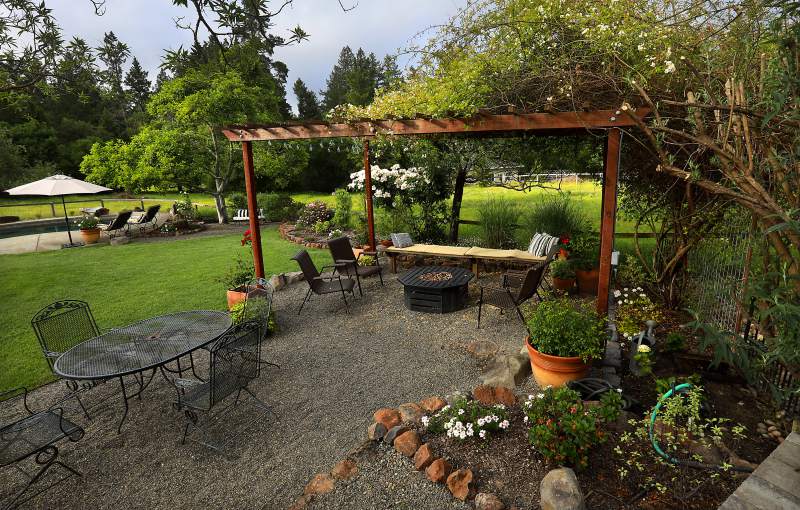 The tall arched windows, wide siding and utilitarian, motion-sensor lighting telegraphed the '80s as sure as big perms and Members Only jackets.
With both daughters now grown, Bell decided it was time to freshen up the exterior of her house, not just brining it into the millennium, but actually making it more age-neutral.
Some design elements are just so trendy they are forever tied to a certain period. When you see them, you know exactly when that house was built, or when that addition or remodel took place. That's fine if you can afford frequent remodels. But most people can't.
"A lot of what I do is get rid of those moments in time," said Bell, who prefers more traditional looks. "I try to figure out ways to do fixes so something becomes a classic and works over time."
She applied that design philosophy to her own home, giving it a facelift, while at the same time extending her outdoor living space with new landscaping in front and a new patio in back. And she did it for less than $100,000. While that is not chump change, it's small compared to the cost of a major makeover or buying a newer home — with the higher property taxes that would come with it.
Bell did it without tearing down walls or new construction. Instead, she brought it up to date with new siding, windows, entry door, lighting and paint, as well as front landscaping. In back, she replaced pea gravel with a paved patio, vastly extending the comfortable living area into what now feels like a whole new outdoor room.
"The thing is not to get stuck in what you have and think that it has to be that way. Whether they like it or not, they think it's going to be really big to change it. It can be really big. But you also can make some simple changes sometimes," she said.
Bell particularly hated the arched windows. But she liked their height and light, so, working within the same dimensions, she replaced the arched topped windows with square windows, then added a rectangular transom above them. The windows are Marvin Wood-Ultrex in Ebony. She left the interior side of the windows natural, then had her painter do a dry brush finish with a warm cream paint and natural finish over that.
"I feel like windows are architecture," she said.
Bell said she wanted them to look old and weathered from the inside while, popping out against the white painted trim on the outside.
The beveled siding also looked a little tired. She swapped that out for a new "traditional" 10 inch wide cedar plank with a channel cut, and painted the exterior white, lightening up the whole look of the house.
She applied another design trick at the bottom of the house — a sandstone veneer from SBI Materials that has the appearance of a masonry foundation.
Landscaping can also date a house. Bell killed the lawn. then husband Dan, who works for Ghilotti Construction and knows his way around heavy equipment — dug it out to lower the space, then surfaced it with fine gravel and large gray flagstone steps, leading to the front door and framing the space with planting boxes. The new configuration makes the entryway more obvious to visitors.
New French farmhouse style lights from Restoration Hardware completed the facelift in front.
"If I had my way I would have loved to renovate an old barn and live in that. I love vintage houses," she explained. "I wanted to create that feel in a house that was built in 1989."
In the back of the house, Bell also wanted to make some changes to freshen the space. Without actually changing the cheaper siding, she added small strips of wood to make it look like old fashioned board and bat, and changed out the light fixtures and added uplighting in the trees to soften the ambiance.
But the most dramatic change was the patio. To save money, the Bells had used pea gravel as a surface for their outdoor kitchen, adding it without doing any grading work. But it didn't prove comfortable or function.
Lynne Bernstein of Garden of Ease Landscaping & Design in Sebastopol filled in the area and brought it up several inches, then paved it in large Calstone pre-cast concrete pavers in "Sierra Granite" that look like genuine stone.
Bell said it's surprising what a difference the new surface makes.
"Being able to come out here and have it be on one level is so nice. You can even walk i bare feet. It adds another room. It's the same amount of space but it feels bigger," she said. "I knew it was going to change it but I didn't know it would change it that much."
The new surface actually makes the space feel more like an extra room — 1,000 feet to be precise. A small outbuilding that Bell had once used as a home office when her girls were young was lifted and moved next to the patio and put to service as a kitchen with pullout couch and big screen TV for lounging and guests.
For Memorial Day weekend the new patio, with a smoker oven will be filled with friends and family over for barbecue.
What's the takeaway?
"Just think about what space you have outside," she said, "and imagine how you can better use it as livable space."
Tama's Tips for UPDATING
Don't get caught up in how things look right now. Sometimes simple, easy changes can have a big impact.
Think about what your goals are for redefining the look of the home or property.
Remember that details matter such as windows and doors, siding, trim work, paint color and landscaping.
Think about adding livable, exterior spaces; huge bang for your buck in our weather friendly Sonoma County.
Read the story online at the Press Democrat here.